'Vegan Tofu Burger & Easy BBQ Sauce' -- 4 Servings (4 Pieces)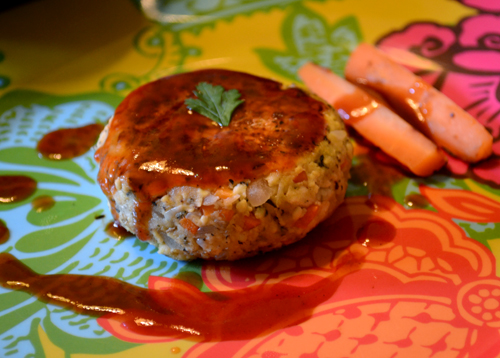 INGREDIENTS

Tofu burger:
200g firm tofu (momen tofu)
Half onion
1 carrot
2 Tbls flour
1/2 cup panko
1 Tsp dried basil
1 Tsp dried thyme
1 dash nutmeg powder
Salt & pepper to taste

BBQ sauce:
2 Tbls vegan Worcester sauce
2 Tbls ketchup
2 Tbls agave syrup (or maple syrup)
2 Tsp Sriracha sauce (if you want to make it spicy.)

Directions:
1. Microwave the tofu for 2 min. Press the water out of the tofu (as much as you can).
2. Heat a little vegetable oil in a frying pan, add minced onion and carrot, fry until the carrot is soft.
3. Place fried onion, carrot, tofu and all other ingredients for the burger into the bowl, and mix well. Separate mixture into 4 equal pieces, and shape into burgers.
4. Fry burgers on both sides over medium heat while covering pan. Fry on both sides until burgers are brown.
5. Mix all ingredients of the sauce, spread sauce on the burgers. EAT!

---

This is an easy and tasty tofu burger recipe. In Japan, tofu burger recipes are always using chicken mince. It's not TOFU burger! So I made REAL tofu burger recipe. It can be difficult to keep the tofu hard enough to form burgers. But this recipe has a nice, firm burger texture I think!
I think you can easily find vegan BBQ sauce in the supermarket, but I recommend homemade BBQ sauce. You can make your favourite BBQ sauce by yourself and it's easy!

Vegan Memo:
- Please press the tofu well.
- I used the dried basil and thyme to cut the beany flavor of the tofu. You can use dried mixed herbs instead of that as well.

---
Nutrition Facts
Per Serving
Calories - 150.9
Total Fat - 4.6 g
Saturated Fat - 0.7 g
Polyunsaturated Fat - 2.5 g
Monounsaturated Fat - 1.0 g
Cholesterol - 0.0 mg
Sodium - 189.6 mg
Potassium - 199.3 mg
Total Carbohydrate - 24.3 g
Dietary Fiber - 2.1 g
Sugars - 3.8 g
Protein - 9.3 g
Powered By Spark Recipes

Trackbacks of this post URL

Use trackback on this entry.