'Avocado and Orange Japanese Vegan Chirashi Sushi' -- 4 Servings




INGREDIENTS

Sushi rice:
2 cups Japanese rice
2 cups water
3 Tbls rice wine vinegar
3 Tbls sugar
1 Tsp salt

Seasoned Koya Tofu:
1 Koya tofu (freeze-dried tofu) (If you can't get it, you can use 200g frozen firm tofu instead of Koya tofu.)
1 cup water
2 Tbls sake or white wine
2 Tbls sugar
2 Tsp soya sauce
1/2 Tsp salt

1 carrot
1/4 Tsp salt
1 avocado
1 orange
2/3 cup shelled edamame (If frozen, defrost before use. If raw, cook in boiling water first.)
Nori to garnish

Directions:
1. Start by cooking the rice: Wash the rice, and soak in water for 30min if you have time. Drain the rice and put in a heavy-bottom pan with water. Cover the pan and cook over high heat. After you can see steam coming out from the pan, turn the heat down to lowest setting. Wait for 10min. Turn off the heat, wait for 10min without opening the lid.
2. Place Koya tofu, water, sake, sugar, soya sauce and salt into the pan, bring it to a boil. Cover the pan and cook for 10min over low heat. Set aside until it is cold enough to touch. Cut the reconstituted tofu into thin rectangles.
3. Cut the carrot into thin strips, place in a bowl with salt and mix. Wait for 10min, squeeze out the water from the carrot. Set aside.
4. Mix the vinegar, sugar and salt until all sugar is dissolved. Add the liquids to the hot cooked rice, mixing well with a spatula in cutting motions. If you mix the rice in the normal way, the rice will get mushed up!
5. Place the rice, sliced Koya tofu, carrot, sliced avocado, sliced orange, edamame and nor on a dish (in that order). EAT!

---

Chirashi sushi is a popular home made sushi in Japan. Usually people use egg and fish on the sushi rice so I made it vegan with avocado and seasoned freeze-dried tofu. This freeze-dried tofu (Koya tofu) is so useful in the Japanese vegan cooking, but difficult to find in the UK. So you can make it by yourself! It's so easy. Buy firm tofu and freeze it. Next day, defrost the tofu. You will notice the tofu has changed into a sponge!

Vegan Memo:
- Don't lift the lid of the pan while you are cooking the rice! This is the Japanese way to make soft rice!
- If you have a rice cooker, you can use it.
- You can make your own chirashi sushi with other kinds of vegetables! (e.g cucumber, celery, red pepper and so on. )

---
Nutrition Facts
Per Serving
Calories - 391.7
Total Fat - 10.8 g
Saturated Fat - 1.5 g
Polyunsaturated Fat - 3.2 g
Monounsaturated Fat - 4.5 g
Cholesterol - 0.0 mg
Sodium - 937.5 mg
Potassium - 404.8 mg
Total Carbohydrate - 31.0 g
Dietary Fiber - 4.8 g
Sugars - 21.9 g
Protein - 12.8 g
Powered By Spark Recipes
'Vegan Tofu Burger & Easy BBQ Sauce' -- 4 Servings (4 Pieces)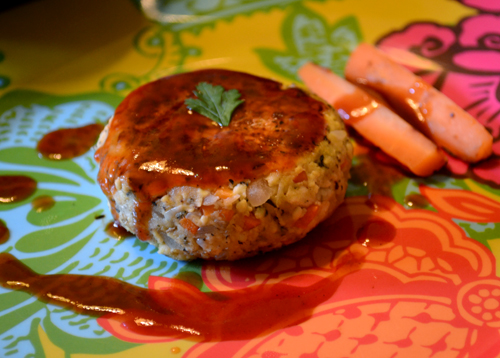 INGREDIENTS

Tofu burger:
200g firm tofu (momen tofu)
Half onion
1 carrot
2 Tbls flour
1/2 cup panko
1 Tsp dried basil
1 Tsp dried thyme
1 dash nutmeg powder
Salt & pepper to taste

BBQ sauce:
2 Tbls vegan Worcester sauce
2 Tbls ketchup
2 Tbls agave syrup (or maple syrup)
2 Tsp Sriracha sauce (if you want to make it spicy.)

Directions:
1. Microwave the tofu for 2 min. Press the water out of the tofu (as much as you can).
2. Heat a little vegetable oil in a frying pan, add minced onion and carrot, fry until the carrot is soft.
3. Place fried onion, carrot, tofu and all other ingredients for the burger into the bowl, and mix well. Separate mixture into 4 equal pieces, and shape into burgers.
4. Fry burgers on both sides over medium heat while covering pan. Fry on both sides until burgers are brown.
5. Mix all ingredients of the sauce, spread sauce on the burgers. EAT!

---

This is an easy and tasty tofu burger recipe. In Japan, tofu burger recipes are always using chicken mince. It's not TOFU burger! So I made REAL tofu burger recipe. It can be difficult to keep the tofu hard enough to form burgers. But this recipe has a nice, firm burger texture I think!
I think you can easily find vegan BBQ sauce in the supermarket, but I recommend homemade BBQ sauce. You can make your favourite BBQ sauce by yourself and it's easy!

Vegan Memo:
- Please press the tofu well.
- I used the dried basil and thyme to cut the beany flavor of the tofu. You can use dried mixed herbs instead of that as well.

---
Nutrition Facts
Per Serving
Calories - 150.9
Total Fat - 4.6 g
Saturated Fat - 0.7 g
Polyunsaturated Fat - 2.5 g
Monounsaturated Fat - 1.0 g
Cholesterol - 0.0 mg
Sodium - 189.6 mg
Potassium - 199.3 mg
Total Carbohydrate - 24.3 g
Dietary Fiber - 2.1 g
Sugars - 3.8 g
Protein - 9.3 g
Powered By Spark Recipes
'Vegan Healthy Quinoa Bowl' -- 2 Large Servings




INGREDIENTS

1/2 cup quinoa
1 cup water
Vegetable stock powder or konbu dashi pawder to taste

1 red pepper
2 stalks celery
1 medium tomato
Half cucumber

- Dressing
3 Tbls red wine vinegar (or rice vinegar)
2 Tbls olive oil
1/2 Tbls soya sauce
1 Tsp mustard
1 Tsp crushed chili
Salt & pepper to taste

Coriander to garnish

Directions:
1. Wash the quinoa and place the quinoa, water and vegetable stock powder in a pan. Bring to boil, turn the heat down to low, cover the pan and simmer for 13min. Turn the heat off, wait for 5min without opening the pan.
(If your quinoa came with its own cooking directions, you can do it that way.)
2. Cut all the vegetables into small cubes (smaller than 1cm cubes).
3. Mix all the ingredients for the dressing.
4. Mix the cooked quinoa, chopped vegetables and dressing and refrigerate.
5. EAT!

---

This is the one of my favourite salads. I call it salad, but this recipe can be the main in your dinner I think. This fresh and spicy taste will make you feel satisfied.
Quinoa started to be popular in a healthy cooking. If you don't know how healthy it is, you should search it on the internet. Basically quinoa is perfect for our staple diet.

Vegan Memo:
- After you cut the vegetables, put all vegetables into cold water. Cold water make the vegetables crunchier!

---
Nutrition Facts
1 Large Serving
Calories - 389.1
Total Fat - 17.0 g
  Saturated Fat - 2.1 g
  Polyunsaturated Fat - 2.0 g
  Monounsaturated Fat - 10.1 g
Cholesterol - 0.0 mg
Sodium - 503.4 mg
  Potassium - 292.2 mg
Total Carbohydrate - 50.8 g
  Dietary Fiber - 5.8 g
  Sugars - 15.5 g
Protein - 8.3 g
Powered By Spark Recipes